"If a tree falls in a forest and no one is around to hear it, does it make a sound?" A fascinating question, I'm sure. But you're running a business; who's got time for amateur philosophy? Your question is, "If we build a smashing product and nobody finds it, is it still smashing?"
The answer is yes. Absolutely. Good on you… Unfortunately, you may still go out of business.
The problem is, as much as we idealists want to believe quality is its own marketing, that's only part of the story. Quality is indispensable, to be sure. But sometimes, especially when you're still building a base of repeat customers or trying to scale your business up, you just need more people to know about you. That's where marketing comes in.
But you knew that. You're trying to market yourself. After Ryan's post on content creation last week, you sketched out a new blog post. You recently hired a kid to keep your social media accounts active. And you have a beautiful new, handcrafted website by Switzer Creative. You're making smart decisions that should contribute to organic search engine ranking and pay off in the long-term. The rub is you need it to pay off in the short-term. You need traffic to your site now.
Enter SEM. Search Engine Marketing (SEM) stands out as one of the most immediate, manipulable, and measurable ways to drive traffic to your company's site. What is it? One thought leader defines it this way, "SEM is the process of gaining website traffic by purchasing ads on search engines." Put another way, give Google money and they will make you show up when customers search for stuff. (To be fair to the other guys, Bing and its partner Yahoo do currently account for a combined 1/3 of all search traffic, but Google holds down virtually all of the rest).
How does search engine marketing work?
SEM can be split into two groups: search and display campaigns. Paid search is built around targeting words and phrases potential customers are searching for online. Since we do web development, Switzer might bid on "web design companies", "new website", or even "my website sucks". Assuming we use broad or phrase match and bid high enough, Adwords would then serve up our ad when someone Googles these phrases or a variation like "st louis web design companies". Negative keywords allow us to exclude searches like "help me build my new website." If you're searching for that, you're probably not looking for our services – yet.
Display campaigns are a horse of a different color. They differ in format, targeting, and marketing methodology. If you're interested, comment below and I'll address it in a future post. We have other pressing questions right now.
Are SEM and SEO the same?
A number of people get confused between SEM and SEO. They are not the same. With SEM, also referred to as "Paid Search" or "Pay-Per-Click (PPC) advertising", you pay to show up in the ads sections of the SERPs (Search Engine Results Pages). With SEO, your placement on the SERPs is organic, earned not bought. SEM & SEO do overlap at points, particularly in the areas of keyword research and landing page relevance, but they are distinct specialties with different methods and different goals. As you can see below, the placements on the SERPs are different too.
Does anybody click those ads?
Actually, yes. A lot of people do. Particularly if they are actively looking for a product or service. Coincidentally, those are exactly the motivated customers you are looking for. Yahtzee!
What is the cost of SEM?
The cost of your paid search advertising depends on a number of factors and may range from a few dimes per click up to a few dollars or more. The gratifying thing with the pay-per-click model, however, is that you don't pay unless a customer clicks on your ad and comes to your site. You're not paying for potential traffic as with a print ad; you're paying for actual traffic.
SEM also affords considerable control of how much you pay for your clicks. On Google Adwords, for instance, you bid on keywords by setting a max CPC (cost-per-click). When a user Googles a term, Adwords lines up advertisers bidding on that term. The ads are arranged partly by bid, but the perceived quality of your ad and your landing page factor in heavily as well. A lower bid may outrank a higher one if the "quality score" and format of the first is better.
If a user likes your ad and clicks on it, you do not pay your max CPC. You only pay the minimum needed to, given all factors, outrank the bidder below you. For a more elaborate explanation by Google's Hal Varian, watch the video below.
Of course, in addition to these costs paid to Google Adwords or Bing Ads, there is also the cost of managing your ads – either in management fees to an agency specializing in SEM or in time out of your rather packed schedule. Which leads to the final question…
Can I do my SEM myself?
Absolutely! Of course, that's coming from a DIY guy who's considered the feasibility of performing minor operations on myself to save money. Thankfully, reason won out and I'm still alive.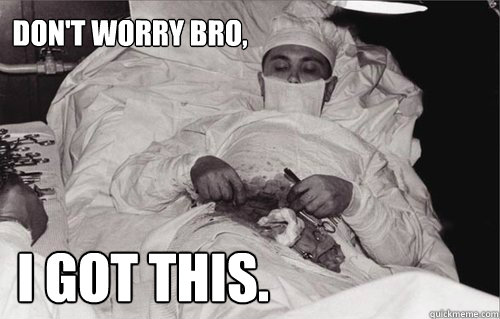 So, is SEM a DIY? Like many specialties, the answer is "Sure, kinda, but not really."The resources are out there. You can teach yourself the basics and get a few campaigns up on Adwords or Bing Ads. The problem is, the learning curve is no bunny hill. You may spend months getting up to speed and still not know the errors you're making. Noob stories abound of innocent mistakes hemorrhaging hundreds or thousands of dollars before anyone even notices.
In addition, SEM is not a static field. Like most digital specialties, the pace of change is breakneck. Search engines like Google are constantly changing the game and routinely introducing new tools. Staying in the game means exploring, iterating, and innovating.
Does Switzer Creative do SEM?
Yes! In our approach to website design, we become partners with our clients. We feel vested in your success. Since our team's skillset and background included search engine marketing management, it made sense for us to use those skills to help our partners – driving more traffic to their sweet new sites.
If you have any questions about search engine marketing, chime in below and I'll try to respond in a timely fashion.